We were thrilled to complete The Grand Picnic in 19.5 hours on WEDNESDAY, AUGUST 2, 2023. Two close friends – Andrew Talansky and Tony Scarponi and 1 who will now be a friend forever – Jason Smith joined the adventure (at the last minute!). We started The Grand Picnic at 1 AM out of the town square in Jackson Hole and it involves a 22 mile road bike ride to Jenny Lake; 1.3 mile swim across the lake; Summit The Grand Teton including a 23 mile hike and some really great rock climbing for the top 3 hours or so from the Upper Saddle of the Grand; swim back across the lake and then pedal back to town. The entire round trip was just over 70 miles (but my phone died on the bike ride back into town).
Tony has joined me for countless adventures from motocross, to alpine ascents, summiting peaks, huge cycles, hikes, and more and it was the first of what will be many with Andrew and Jason I suspect! As a matter of fact, we are already planning the next adventures in TRUCKEE, CA on SEPTEMBER 8 and 10th. BIG Gravel Ride on FRI SEP 8 and BIG Mountain bike Ride on Sunday SEP 10th(all the way around Lake Tahoe).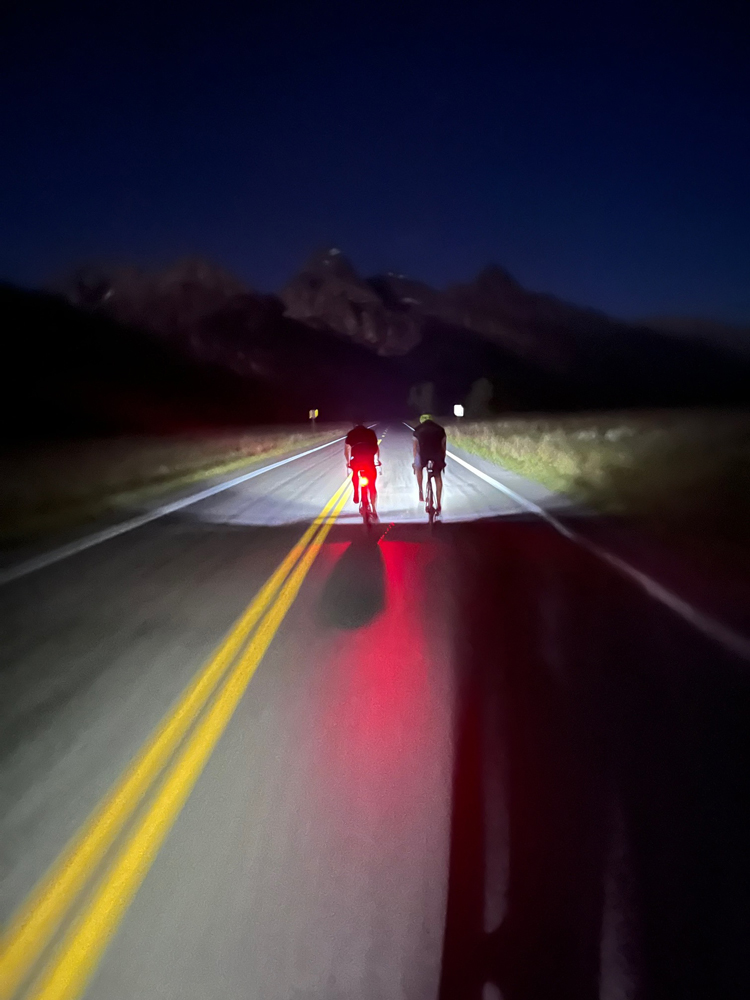 It was a long day but went smooth as can be and the weather was PERFECT. We were scheduled for the event on THU but had to bring it in at the last minute to WED to accommodate the bad weather that rolled in. If we had waited, there was no chance we would have been able to summit The Grand. Some of the highlights include:
Jason hearing about and signing up for the event just a week in advance AND him being able to make a flight 24 hours earlier than anticipated at a full sprint before the plane took off from the boarding gate!
The 2:30 AM swim in the dark went perfectly. Temps were good (water and air) and the full moon was a huge cooperation!
Hearing a (grizzly?) bear up close and personal at the trailhead from the parking lot was a first…that deep guttural noise was an unforgettable one!
We met our exceptional guides from EXUM 7 miles into the hike where the trail meets the boulders heading up The Grand. We planned on 6:30 AM and nailed that arrival time at 6:31 AM after a 22 mi bike, 1.3 swim, 7 mile hike and the necessary transitions. That was pretty amazing.
I was thrilled to see a couple of my friends summit the Grand with little technical, exposed rock climbing experience but a lot of extreme endurance racing under their respective belts.
Feeling strong on the pedal back to Jackson was a real highlight….and it made mee realize that next years Big Belt Buckle Challenge "BIG" event HAS to be bigger and more bad ass than 20 hours…..
Finishing at 19.5 hours was right in alignment with expectations. I was thinking 18-22 hours so under 20 was all good. Worth mentioning that the record for The Grand Picnic is probably less than a third of that time!